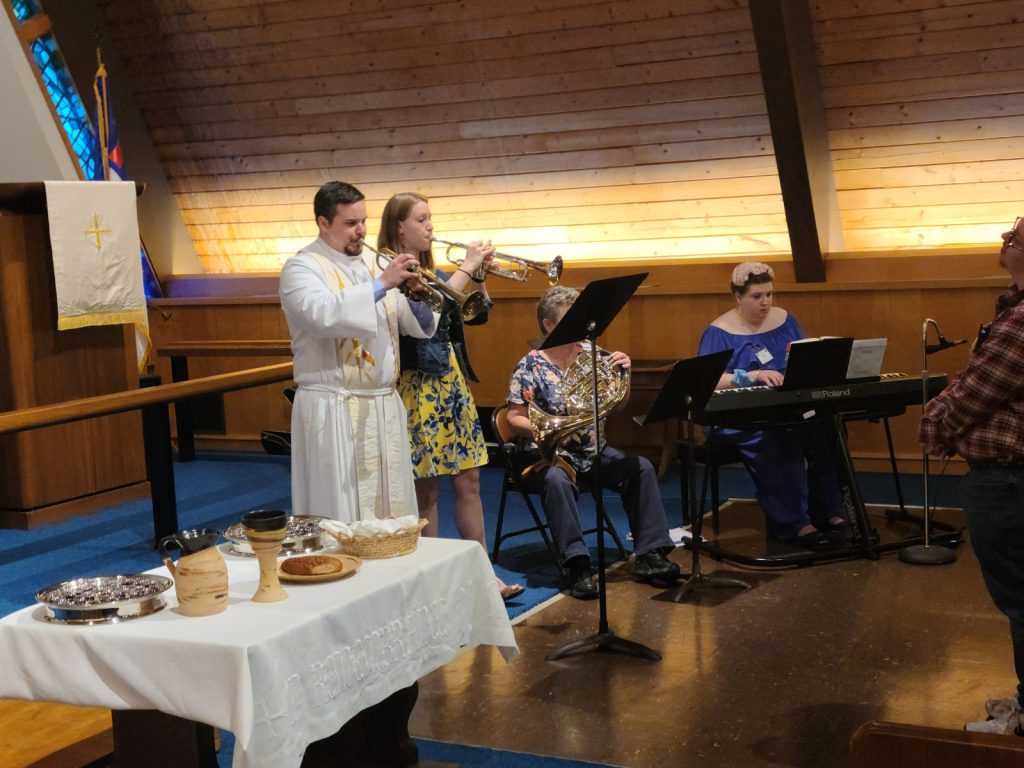 I waited patiently for the Lord;
God inclined to me and head my cry.
God drew me up from the desolate pit,
Out of the miry bog,
And set my feet upon a rock,
Making my steps secure.
He put a new song in my mouth,
A song of praise to our God.
Many will see and honor
and put their trust in God.

Psalm 40
Some of you know that I love music. What you may not know is just how eclectic my taste in music is. I grew up listening to classic rock and alternative rock. Bands like Led Zeppelin, Deep Purple, Red Hot Chili Peppers, Green Day, U2 will always have a special place in my heart. In high school I played trumpet in our school's jazz band and so naturally my music pallet grew to include Louis Armstrong, Maynard Ferguson, Glenn Miller Orchestra. When I was studying at Bowling Green State University, I found that classical music helped me concentrate as I wrote and studied for class so Mozart, Vivaldi, and Chopin joined the playlist. Being married to a high school choir director, I have also included musicals to that list such as The Greatest Showman, Hamilton, and Wicked. In seminary it expanded even further to include Carrie Newcomer, Christopher Grundy, and Paul Zach. There are so many great songs I could play and with technology I have the ability to play any song my heart desires. You would think that every day would be an adventure, an opportunity to revisit an oldie or discover something new. However, I am stuck. I can't help but listen to the same songs and it is getting boring. I need a new song!
We are creatures of habit. We enjoy patterns. We like to know what will happen next and not be caught off guard. While stability is important, sometimes patterns keep us from truly living. We find that the song is just not doing it anymore.
Maybe you feel stuck playing the same song on loop…
"God is not truly with me."
"If only I was nicer or kinder or more loving God would love me."
"Those in power always get their way, and those on the margins always lose."
Recently I sat down with a Church member and they told me, " I carry so many burdens that I feel bad my heart is not focused on God." Then we started talking about their family, their kids, their great-grandkids. We talked about the beauty of spring outside their window, and what it was like when they taught school. Before I knew it, they were singing a new song with God and it was a gift to listen to. She told me, "perhaps all I need to do is look for the blessings."
On Easter, God sang a new song. Death did not have the final song but life, love, compassion, and grace did. Every morning since, has been easter morning. Every morning since, God has sung a new song. Maybe it's the birds out on your back porch. Maybe it's the stranger that opens the door for you. Maybe it's a sense of calm in the midst of a storm. Perhaps all we need to do is listen for it. Christ has risen indeed. Alleluia.
Blessings for your journey,
Rev. Keith McDevitt