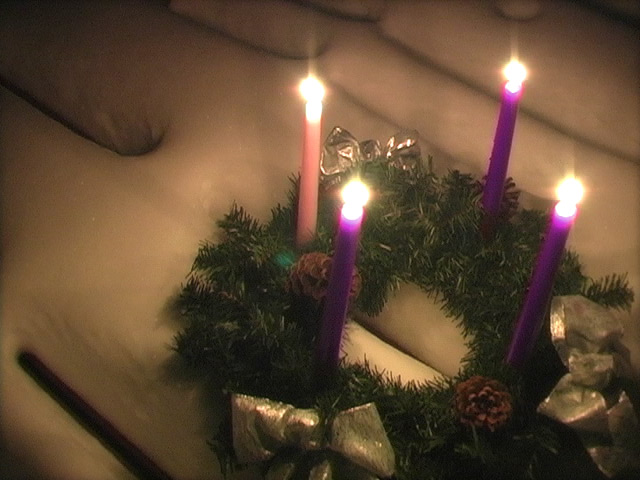 O come, Desire of Nations, bind

All Peoples in one heart and mind;

Make envy, strife, and quarrels cease;

Fill the whold world with heaven's peace.

– New Century hymnal #116, verse 7, o come, o come, emmanuel
It was the day after Halloween. I was driving to the store and went through my preset radio stations to find anything that was not a commercial or talk-radio. I needed music that day. No Politics. No one trying to sell me something. Music, but to no avail. My favorite stations were all in talk radio mode, so I manually scanned through stations. I was shocked by what came on next. One day after Halloween, and guess what played through the speakers? Christmas music! Joy to the World was playing one day after the Monster Mash and the Ghost Buster's theme song.
I should not have been surprised. It seems like Christmas comes earlier every year, the music, the decorations, and the shopping. This year especially, many of us may feel the urge to skip the season of Advent and rush to the joy of Christmas morning, but this is where I want to urge us to pause. I invite us to mindfully sit in this sacred season of waiting and anticipation of the coming Christ child who is God's hope, peace, joy, and love with us.
Advent means more this year. Every single one of us waits for the return of normalcy, the return to in-person community, the coming of a vaccine, and so much more. We wait… and wait…and wait. We wait not in despair, but in hope that God's making all things new. In verse 7 of O Come, O Come, Emmanuel, the author writes of a future yet to become reality but is on the brink of breaking through, where the nation and all its people are united, where the forces that divide us cease to divide us, and God's peace fills the whole world. What a beautiful vision for us today and so relevant?
            In this season of waiting, we wait with expectations that the Christ child shows us the way. We wait with the assurance that God is with us, Emmanuel, and will bring about peace even in these times.
Holy God, begrudgingly we wait for Christmas day. In this season of Advent, help us wait with childlike wonder. May we envision a world where the wolf lies down with the lamb, where peace and harmony is the way. May we pray this, your kin-dom on Earth, into being. Amen.